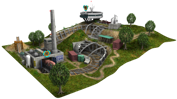 Beryllium Mine mines Beryllium out using a 'very complicated process', so Beryllium is scarce.
Mined Beryllium does not need further processing, and are stored in the Beryllium Store.
Building Specification
Edit
This building occupies a 6*6 area, making a total of 36 sq. units of land occupied.
This building has a maximum of 50 Levels.
NOTE: This building has a cap of maximum 1 per City!
Production Table
Edit
| Level | Hourly Production | Level | Hourly Production | Level | Hourly Production |
| --- | --- | --- | --- | --- | --- |
| 1 | 1 | 11 | | 21 | 211.01 |
| 2 | 2 | 12 | | 22 | |
| 3 | 4 | 13 | | 23 | |
| 4 | 7 | 14 | | 24 | |
| 5 | 11 | 15 | | 25 | |
| 6 | 16 | 16 | | 26 | |
| 7 | 22 | 17 | | 27 | |
| 8 | 29 | 18 | 154 | 28 | |
| 9 | 37 | 19 | 172 | 29 | |
| 10 | 46 | 20 | 191 | 30 | 436 |
| Level | Hourly Production | Level | Hourly Production | Level | Hourly Production |
| 31 | | 41 | | | |
| 32 | 497.03 | 42 | 862.07 | | |
| 33 | | 43 | 904.07 | | |
| 34 | | 44 | | | |
| 35 | | 45 | | | |
| 36 | | 46 | | | |
| 37 | | 47 | | | |
| 38 | | 48 | | | |
| 39 | | 49 | | | |
| 40 | 781 | MAX | 1226 | | |
| Level | Hourly Production | Level | Hourly Production | | |