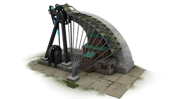 Digging gold from the earth, the Gold Mine is capable of supplying large chunks of gold to the Mint. One Gold Mine is enough for the Mint of the SAME level.
Building Specification
Edit
This building occupies an area of 3*2, making a total of 6 cells occupied.
This building produces Gold Ores as a product.
Production Table
Edit
| Level | Hourly Production | Level | Hourly Production | Level | Hourly Production |
| --- | --- | --- | --- | --- | --- |
| 1 | 10 | 11 | 1100 | 21 | 5300 |
| 2 | 20 | 12 | | 22 | |
| 3 | | 13 | | 23 | |
| 4 | | 14 | | 24 | |
| 5 | | 15 | | 25 | |
| 6 | | 16 | | 26 | |
| 7 | | 17 | | 27 | |
| 8 | | 18 | | 28 | |
| 9 | | 19 | | 29 | |
| 10 | 1000 | 20 | 5000 | 30 | |
| Level | Hourly Production | Level | Hourly Production | Level | Hourly Production |